Wedding Favours are a traditional gift to your guests to say thank you for sharing your special day. They are not only given at weddings: they can form any part of a celebration, Weddings, Christening, Birthdays or Christmas. It is a tradition which originates from Europe, primarily Italy, where they are know as Bomboniere. Wedding favours in Italy date back to the middle ages. Often the bombonieres would be decorated with silk or dried flowers, although these days we tend to still to miniature artificial flowers, or even crystals and ribbons.
Wedding Favours are perhaps most common where they can form part of a table decoration, or they can be handed out by bridesmaids and flower girls. A nice way of presenting them is in Favour Trays or baskets. Line the favour trays or baskets with TISSUE PAPER or organza fabric in the colour of your wedding.
Wedding Favour Fillings
If you want to be traditional, use sugared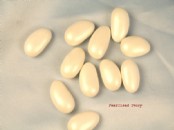 almonds in your wedding favours. Five almonds in each favour is the norm. Together they represent wealth, health, happiness, fertility and long life. A kilo of Almonds with be sufficient for 45 to 50 wedding favours.
You can use any other fillings such as chocolate hearts, dragees, mints, love hearts and why not go for something different for the children like chocolate hearts or money, chocolate buttons, jelly sweets or even dolly mixtures.
For some of your extra special guests you could get them a miniature bottle of their favourite tipple as a favour. Product CGL09 and CCG02 are ideal for this perfectly fitting most miniature bottles.
Although you can buy your wedding favours ready made it is much more fun, personal and cheaper to make them yourself. Why not have a favour making party and invite all your friends round for an evening of wine tasting and wedding favour making?
When it comes to securing your wedding favours the most simple way is to use a ribbon. Generally a thinner ribbon would be easier to tie, although some people do use something wider to make more of a statement out of the bow.
You can use anything from a chiffon, satin or even a mixture of both like our sunshine ribbon.
To work out the amount you will need for wedding favour boxes you need to know how you would like to tie the favour ribbon. For example, if you are using a square box, you will need to decide if you are just wrapping the favour ribbon around once, or if you are wrapping the ribbon around both ways to make a cross shape. If you are not sure how much you will need, feel free to contact us, or give us a call and we can help work it out for you. We will need to know the size of the favour boxes you will be using and also how many you need to do.
Its usually easier if you have a favour boxribbon you will need, just wrap and tie the string, then undo it carefully and measure the amount you used. You will then need to multiply this by the amount of favours you will need to do. You should add an extra 10 cm to the measurement taken with the string as it is harder to tie the ribbon neatly so you would need more to play with and we always recommend making sure you have a little extra in case some of the bows go wrong and you have to re-do them
Contact us if you would like to see a free wedding favour ribbon or wedding favour box sample. Although ribbon samples are just small snippets for colour/quality checking.
The three most common types of wedding favours are: Favour Boxes, Favour Rounds and Favour Bags.
Favour boxes are a more modern option. They come in many different shapes, colours and sizes. If you prefer different types can be used for men and women. Something like the evening suit boxes are ideal for men, and the pretty hat boxes are a great modern alternative for women.
Most of the wedding favour boxes come flat packed. They are very easy to put together and there is no gluing needed although some boxes do come pre-made such as CF171. Some of the favours fasten better with a ribbon tied around them and this is a good way of personalising them. Even if they do not need the ribbon to hold them together it is always nice to add your own special touch.
Please don't hesitate to contact us if you require samples of wedding favour boxes, although we do try to limit these to about 6 per customer. We do also offer sample packs to buy if you would like to see numerous samples.
If you did want to make your favour boxes even more special you could always add Parchment/paper flowers, B1495 or Miniature Flowers. In fact you are only limited by your own imagination. We even have a range of colours in our flat backed crystals which look fantastic and 3mm glue dots for easy attachment.
Wedding Favour Rounds
There are many different designs of wedding favours rounds. The most traditional is the
bomboniere. They are very easy to make and come in an array of colours and styles so you can choose a style that suits you and your wedding. For example, we have metallic nets if you have a gold or silver theme, or we have the standard nets or the shimmery gossamer nets.
A Quick Guide to making Bomboniere
Favours
in a Few Easy Steps
The more layers of tulle favour rounds you use the fuller the favour will look; 3 is ideal. Use 2 different shades of colour or pattern to give the favour that extra special look?
Place the favour rounds on a flat surface on top of each other, then place your FAVOUR DISH in the centre of the tulle and put your 5 almonds in the dish.
Gather the material up and tie with your ribbon about a third of the way from the base ( It is best to use a thinner ribbon for this like a 3mm or 6mm ribbon , or you can even use a flower or crystal pick as the wired stems will also hold the rounds securely).Finish it off by tying a bow or simply leaving a knot.
Once tied you will need to shape the excess tulle. Once you are happy with your little creation you can either leave it as it is or bit adventurous and add a few trimmings. You could add a ribbon rose or a PAPER FLOWER .Most of these products come on a wire so all you have to do is place it in the centre of your favour with the wire safely tucked inside the favour.
TIP: Rather than using messy glue, use our glue dots to secure your designs. These come in 3mm, and 10mm packs and in either bulk or retail packs.
Miniatures
Many people are giving miniatures bottles of alcohol as wedding favours. If you did not want to do this for everyone why not save it for your extra special guests?
The miniature bottles fit perfectly in our MEDIUM LANTERN BOX B1588 and again you could finish it off perfectly by tying the tops with your wedding ribbon that matches your wedding colours perfectly.
Wedding Favour Bags
We carry a beautiful range of favour bags. The most popular are our chiffon favour bags in small, medium or large sized. They are so easy to make up. All you need to do is choose your filling and place it in the bag and pull on the draw strings. They come in a range of colours, shapes and sizes.
We also offer small paper favour bags for your favours and even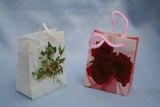 floral favour bags for wedding favours. These floral bags are also available in larger sizes for your more substantial or special favours. These come in small, medium and large as well as the mini favour bags.
If you would like to see a sample of our favour bags, feel free to contact us, or of course we do offer sample packs to buy.
If you would like and help and advice on making your wedding favours please contact us. However just remember that the best thing is that you can do what you want. Use your own ideas and create your own designs.
To go to our favour products, click here.